Please volunteer to help with our Family Promise ministry February 24-March 2!
Jesus said… "Foxes have holes, and birds of the air have nests; but the Son of Man has nowhere to lay his head." Matthew 8:20.
Yes, that's right! Jesus was homeless. He relied on the generosity of friends and strangers to have a place to lay his head.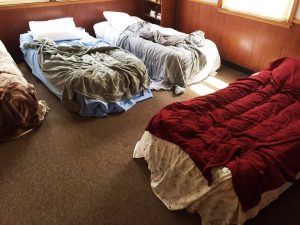 At St. Paul's we open our doors to homeless families through the Family Promise program. Four weeks a year our volunteers pick up homeless families and bring them to the church building at the end of the work day. We serve them dinner, spend some time with them, and then they sleep over in our Sunday School rooms. Early the next morning one of our volunteers drives them back to their Day Center, located in Glassboro.
This outreach ministry will touch your heart when you talk with some of the guest families and hear their stories. However, it's a very volunteer-intensive mission. Each time we host, there are more than 50 volunteer slots to fill. Seven days of morning and evening drivers, dinners, evening fellowship hosts, and male and female overnight hosts. Plus setup and breakdown of our air beds and bedding.
To volunteer, sign up on the big chart in the side foyer or email familypromise@stpaulsthorofare.com.