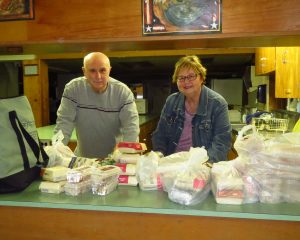 What good is it, my brothers and sisters, if you say you have faith but do not have works? Can faith save you? If a brother or sister is naked and lacks daily food, and one of you says to them, "Go in peace; keep warm and eat your fill," and yet you do not supply their bodily needs, what is the good of that? So faith by itself, if it has no works, is dead.
–James 2:14-17
God wants us to live a life of faith. And here at St. Paul's, we take James 2 seriously and try to put our faith into action.
Because of that, we have many opportunities for you to put your own faith into action. Here are just a few ways you can help:
Feed the Hungry with our Food Pantry. We distribute food monthly to local families, and we're always looking for help. To find out more, click here or email pantry@stpaulsthorofare.com.
House the Homeless by volunteering for our Family Promise ministry. Four times a year we provide meals for homeless families being housed in transitional housing while they seek housing. We need volunteers to provide dinners and gift cards. For more info on the Family Promise program, click here.
Welcome the Stranger. Whether you're a longtime church member or just thinking about visiting, we do our best to welcome everyone with open arms and open hearts. Our greeters provide information and do their best to make visitors comfortable. If you'd like to be a greeter and help us welcome those who come to worship, email ministry@stpaulsthorofare.com. If you're thinking about visiting St. Paul's click here for more information.
Visiting the Sick and Shut-In is a way to express your Christian concern and bring a little light into what might be a dark time. If you're interested in doing this on a regular basis, talk with Pastor Dave or email him at pastor@stpaulsthorofare.com.
Join our Sunday School or Vacation Bible School Staff: We always need teachers and substitutes, and we'll gladly point you to the required Safe Sanctuaries training to work with our children and youth. Just email our Sunday School Superintendent at stpaulsumcsundayschool@gmail.com.
Take a Mission Trip: We take an annual trip to RedBird Mission in Kentucky to help out the poor people of the Appalachian Mountains. There are other opportunities that arise. The pastor is the best contact to make sure you know where help is needed. Email pastor@stpaulsthorofare.com.
Opportunities in Worship: If you like to sing, why not join the choir? We try to mix it up with traditional hymns and contemporary Christian songs, and we'd be happy to have you join us. Or be a liturgist, reading the scripture during our worship service. We're always looking for Greeters and Ushers, too. If you want to learn multimedia, you can help by running our computer and sound system. For more info on any of these opportunities, email ministry@stpaulsthorofare.com.
Help around the church is often needed. If you can stuff envelopes, make copies, or fill in as an administrative assistant, email Trista, stpaulsthorofare@gmail.com. If you're handy with tools and can fix things, paint, or organize all the "stuff" that collects in the church, contact our trustees by emailing  ministry@stpaulsthorofare.com.

There might be other volunteer opportunities that come up on occasion, like working at our Sunday School Bazaar or Chicken BBQ Dinners. Just watch our newsletters, e-notes and bulletin announcements. Or if you have a suggestion for something you'd like to do for St. Paul's, contact the pastor or one of the emails above. Put your faith into action!